Community Services & Programs
Anti-Graffiti Program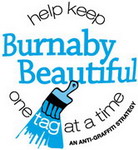 Graffiti is a crime in the form of vandalism. It consists of writing or drawing a tag, which is a type of stylized signature, on an object such as a fence, vehicle, building or wall without the permission of the owner. The objective of the Burnaby Anti-Graffiti Program is to control and minimize graffiti's negative impact on the community. The Burnaby RCMP's role in the program is to identify the graffiti writers and to hold them accountable for their actions through enforcement or education.
The Anti-Graffiti Unit works in close partnership with the community and other police agencies throughout the Lower Mainland to identify prolific taggers.
The best way to prevent yourself from becoming a victim of this type of crime is to ensure your property is clean and free of objects that could provide concealment. Always report suspicious persons or activities to the Burnaby RCMP at 604-646-9999 or if the crime is in progress call 911.
In Burnaby, the owner is responsible for removing any graffiti from their property. Research has shown that immediately removing the graffiti reduces the chances of re-victimization and further tagging by other vandals. There are many products available on the market to remove graffiti yourself or you can contact a professional graffiti removal company for their assistance.
Graffiti on City of Burnaby property such as a light pole or in parks should be reported to the police and to the City of Burnaby Anti-Graffiti Program by completing an online report or by contacting the City Anti-Graffiti Coordinator at 604-294-7388.