Imitation handgun seized from youth at Metrotown during proactive patrols
Burnaby
2023-04-28 09:22 PDT
File # 23-13148
An airsoft gun closely resembling a handgun has been seized by police after a group of youth was seen shooting gel paintball rounds inside the food court area of Metropolis at Metrotown.
Burnaby RCMP's Community Response Team (CRT) was doing proactive patrols inside the mall on the evening of Friday, April 21 when they witnessed a group of teens with various paintball-style guns shooting gel rounds in the food court area near other mall patrons, creating a public safety concern.
CRT officers were able to quickly intervene, taking several teens into custody. A metal airsoft gun closely resembling a handgun was seized from one of the teens.
The teens were released with warnings after officers spoke with their parents and guardians. The teens have also been banned from the mall by Metrotown Security.
This reckless behaviour created a dangerous situation for everyone in the area. Not only were these youth putting members of the public at risk by shooting gel paintball rounds in an indoor public space, there was also an airsoft gun that closely resembled a real handgun, which creates additional concerns for the public and for police, said Cpl. Mike Kalanj with Burnaby RCMP. It's fortunate our CRT officers were in the area doing proactive patrols at the time and were able to safely intervene.
Burnaby RCMP would like to remind the public that imitation firearms, which include airsoft guns, bb guns, and pellet guns, can pose a real risk to safety as they can be incredibly difficult to distinguish from authentic firearms. This potentially increases the risk to the person in possession of the imitation firearm, bystanders, and responding police officers who must treat realistic-looking firearms as authentic until proven otherwise.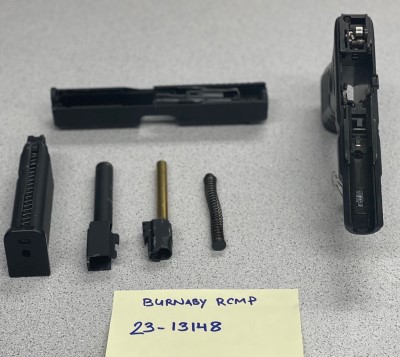 Burnaby RCMP
6355 Deer Lake Avenue, Burnaby, BC, V5G 2J2
Office: 604-646-9900


Email: burnaby_rcmp_media@rcmp-grc.gc.ca
Website: burnaby.rcmp-grc.gc.ca (English only)

Follow Us: