Keian's Holiday Wish Toy Drive: Help Burnaby RCMP support sick kids this holiday season
Burnaby
2022-11-23 14:03 PST
Burnaby RCMP is proud to carry on the legacy of Keian Blundell this holiday season, by collecting donations to support sick children in our community as part of Keian's Holiday Wish Toy Drive.
Keian passed away in 2014 at just six-years-old after bravely battling cancer, but he made a big impact in his short life. Burnaby RCMP continues to honour Keian's wish of sharing love and joy with children facing life-threatening illnesses by continuing his tradition of collecting donations for BC Children's Hospital and Canuck Place Children's Hospice.
Every year as we head into the holiday season, Burnaby RCMP reflects on Keian's legacy of giving and brightening the lives of others. This toy drive allows us to honour Keian's wish, as we support sick kids and their families thanks to the generosity of our community, said Cpl. Laura Hirst with Burnaby RCMP.
Burnaby RCMP will be collecting donations of new, unwrapped toys, as well as cash and gift cards during three upcoming events in Burnaby:
Friday, November 25 from 11 am to 7 pm at Toys "R" Us at Metropolis at Metrotown (4800 Kingsway, Burnaby)
Thursday, December 1 from 11 am to 7 pm at Canadian Tire at Market Crossing (7200 Market Crossing, Burnaby)
Friday, December 2 from 10 am to 8 pm at The City of Lougheed Shopping Centre (9855 Austin Avenue, Burnaby)
Burnaby RCMP will also have a box set up to accept donations at the Metrotown Toys "R" Us between November 25 and December 8.
In addition, donations can also be dropped off during regular business hours at Burnaby RCMP's main detachment and Community Police Offices. Click here to see locations.
For more information on Keian's Holiday Wish Toy drive, see details on Facebook. Keian's family has also set up an Amazon Wish List for those who may prefer to donate online.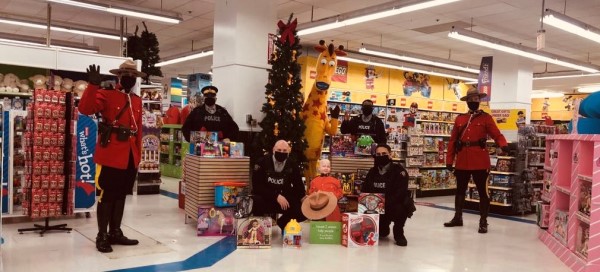 Burnaby RCMP
burnaby.rcmp-grc.gc.ca (English only)
6355 Deer Lake Avenue, Burnaby, BC, V5G 2J2
Office: 604-646-9900


Email: burnaby_rcmp_media@rcmp-grc.gc.ca

Follow Us: