Burnaby RCMP seeks to identify person of interest after suspicious incident near school
Burnaby
2022-11-11 12:00 PST
File # 22-37848
Burnaby RCMP is looking for the public's help in identifying a person of interest after a suspicious incident where a man is alleged to have exposed himself to children near a school.
The incident happened before 11 a.m. on Thursday, November 10 at Maywood Community School in Burnaby.
The man was reportedly pacing in the area before exposing himself to nearby children.
Burnaby RCMP is looking to identify a person of interest who was captured on surveillance video in the area.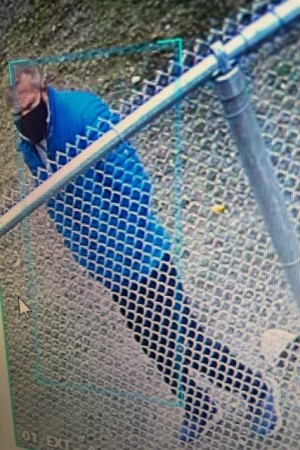 The man appears to have been wearing:
A black medical mask
Blue jacket
Black pants
Blue and white runners
We want to make the public aware of this incident. We are also appealing for any information that may help us identify this person of interest, said Cpl. Mike Kalanj with Burnaby RCMP. Please contact us if you recognize the man in these photos.

Burnaby RCMP has increased its presence in the area in response to the incident.

Anyone with information on the identity of the person of interest is asked to call Burnaby RCMP at 604-646-9999. Please quote file number 22-37848.

Released by

Cpl. Michael Kalanj

Media Relations Officer
Burnaby RCMP
burnaby.rcmp-grc.gc.ca (English only)
6355 Deer Lake Avenue, Burnaby, BC, V5G 2J2
Office: 604-646-9566
Fax: 604-646-9704


Email: burnaby_rcmp_media@rcmp-grc.gc.ca

Follow Us: