Invitation: Please join Burnaby RCMP for the Brentwood Community Forum
burnaby.rcmp.ca
2022-06-14 16:45 PDT
As the Brentwood area of Burnaby continues to grow and develop, Burnaby RCMP is hosting a community forum to engage with residents and businesses and to answer questions they may have about community safety in the neighbourhood.
The Brentwood Community Forum on Saturday, June 18, 2022 will allow people living and working in the Brentwood area to connect directly with the Burnaby RCMP, including police officers who work in the community.
Brentwood Community Forum Event Details:

Saturday, June 18, 2022
Willingdon Community Centre, 1491 Carleton Avenue, Burnaby
2:45p.m. – 4 p.m.
No RSVP required
This community forum will allow our officers to meet and engage directly with Brentwood residents and businesses to discuss their neighbourhood, including addressing concerns, challenges, and safety questions they may have, said Cpl. Mike Kalanj with the Burnaby RCMP.
The Brentwood area is one of the fastest growing areas in the City of Burnaby.
Given the recent growth, it's important that police hear from residents and businesses to understand their concerns and observations about community safety, Kalanj said.
The Brentwood Community Forum will also include representatives from the City of Burnaby.
Those with questions about the event or who are unable to attend the forum in-person can send questions to E_Burnaby_Events@RCMP-GRC.GC.CA.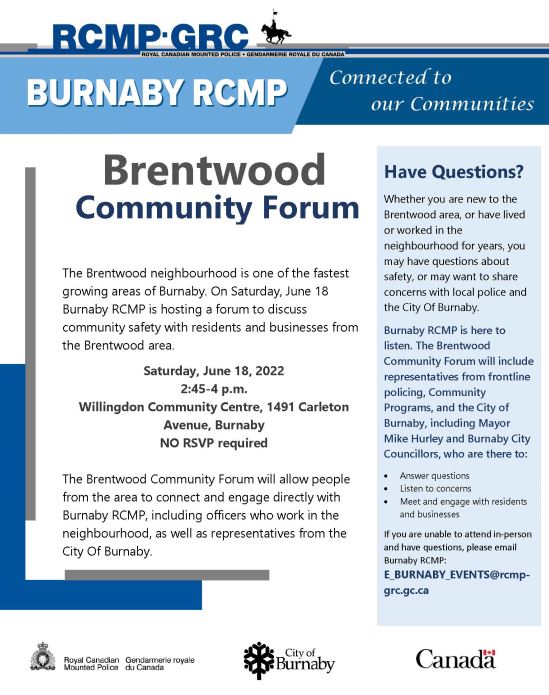 Burnaby RCMP
burnaby.rcmp-grc.gc.ca (English only)
6355 Deer Lake Avenue, Burnaby, BC, V5G 2J2
Office: 604-646-9900


Email: burnaby_rcmp_media@rcmp-grc.gc.ca

Follow Us: