Burnaby RCMP looking for witnesses to serious collision involving motorcycle
burnaby.rcmp.ca
2022-02-18 17:22 PST
File # 22-5514
The Burnaby RCMP is seeking witnesses and dash-cam video after a collision that seriously injured a motorcycle rider in Burnaby on Wednesday, February 16, 2022.
Around 5:45 p.m., Burnaby RCMP received a report of a collision involving a 2020 Red Honda CR-V and 2007 white Honda Motorcycle at the intersection of Kingsway Avenue and Waltham Avenue.
The collision left the 35-year-old motorcycle rider with serious, but non-life-threatening injuries. The driver of the SUV remained at scene and was cooperative with police. It is early in the investigation, however, Burnaby RCMP investigators do not suspect that impairment was a factor.
The intersection was closed for several hours while Burnaby RCMP conducted an investigation with the assistance of the RCMP's Integrated Collision Analysis & Reconstruction Services (ICARS).
It's believed some people who saw the crash left the area before speaking with police.
It was rush hour and we are hoping that someone saw something or captured something on their dash-cam that can assist us in piecing together what occurred leading up to the collision, said Corporal Mike Kalanj with the Burnaby RCMP. If you were in the area of Kingsway Avenue and Waltham Avenue between 5:00 p.m. and 6:00 p.m. on February 16 and have dash-cam footage, please contact our investigators.
The operator of the motorcycle is still in the hospital recovering from his injuries.
Burnaby RCMP would like to remind drivers that if they see a serious collision, they should remain on scene until they speak with police.
Police are asking that anyone who may have witnessed this collision or potentially have dash-cam video in the area when the collision took place or leading up to the collision, to please contact Burnaby RCMP at 604-646-9999. Please quote file number 2022-5514.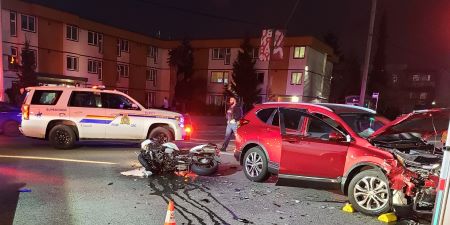 Burnaby RCMP
burnaby.rcmp-grc.gc.ca (English only)
6355 Deer Lake Avenue, Burnaby, BC, V5G 2J2
Office: 604-646-9900


Email: burnaby_rcmp_media@rcmp-grc.gc.ca

Follow Us: