Can you spot the difference? Arrest made after counterfeit Apple AirPods sold through online marketplace
Burnaby
2022-02-08 16:32 PST
File # 22-1912
One person has been arrested after Burnaby RCMP's Community Response Team launched an investigation into counterfeit Apple AirPods being sold through Facebook Marketplace.
Burnaby RCMP first received a fraud complaint on January 14, 2022 after a buyer discovered a pair of Apple AirPods headphones they purchased through a seller on Facebook Marketplace a month earlier were actually counterfeit.
The buyer had met the seller in a parking lot in Burnaby and purchased the packaged AirPods for $180, transferring money through to the seller online. The buyer even received what appeared to be a valid sales receipt.
However, after later going to the Apple Store, the buyer learned that the AirPods and receipt were not authentic.
A second case with similar circumstances was reported to police by another buyer in Burnaby on January 17. That buyer had paid the seller $190 five days earlier after finding a listing on Facebook Marketplace, with the buyer later learning the AirPods they purchased were also counterfeit. The second buyer was also provided a fraudulent receipt.
Through various investigative steps, Burnaby RCMP's Community Response Team identified a suspect. Officers executed a search warrant on January 27, seizing more than 40 boxes of suspected counterfeit AirPods from a Burnaby home.
One suspect was arrested for fraud. The investigation is ongoing.
"These counterfeit AirPods were very convincing at first glance, with packaging and headphones that look authentic. In addition, the seller also provided receipts that appeared to be legitimate to the victims," said Cpl. Mike Kalanj with Burnaby RCMP. We urge everyone to use caution when making purchases through online marketplaces. In this case, the AirPods were selling for well-under the market value, a possible indicator that the listing was too good to be true.
While the counterfeit AirPods and their packaging were convincing, Burnaby RCMP investigators noticed some key differences in comparison to the authentic:
The counterfeit boxes appear slightly poorer in quality than the authentic
The counterfeit boxes lack the shine and feel that actual Apple AirPod boxes have
The image on the back of the counterfeit boxes appears to be a sticker as opposed to a printed image
While the serial number on the counterfeit boxes and receipts matched, they were not accepted on Apple's website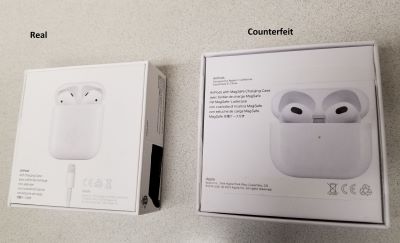 We want the public to be aware of this scam and to take a look at these photos so they can see just how convincing counterfeits can be, Kalanj added.
Burnaby RCMP is urging any other buyers who may have been victimized to come forward to police. Please call Burnaby RCMP at 604-646-9999 and quote file number 22-1912.
Released by

Cpl. Michael Kalanj

Media Relations Officer
Burnaby RCMP
burnaby.rcmp-grc.gc.ca (English only)
6355 Deer Lake Avenue, Burnaby, BC, V5G 2J2
Office: 604-646-9566
Fax: 604-646-9704


Email: burnaby_rcmp_media@rcmp-grc.gc.ca

Follow Us: