Do you recognize this suspect involved in a pepper spray, road rage incident?
Burnaby
2021-01-13 09:10 PST
File # 2020-50782
Burnaby RCMP is asking for the public's help in identifying the suspect in an assault involving pepper spray, following an apparent road rage incident.
On December 29, 2020, just before noon, the suspect assaulted two men in the 4100-block of McGill Street, by pepper spraying them. The suspect then fled at a high rate of speed in a white Ford F150.
The victims believe the incident stemmed from a lane change earlier in the day, which escalated to this act of road rage.
The suspect parked his truck down the block and walked over to commit this act. He was wearing a black hoodie with the phrase You dream it, we build it on the back, as seen in one of the photos below.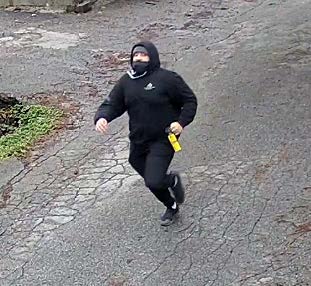 The suspect is described as:
Possibly Caucasian
5' 8 – 5' 10
Late 20's to mid 30's
Black pants
Black face mask
Black hoodie
The suspect vehicle is described as:
White newer model Ford F150 Supercrew
Appears to be a 5' bed with black tonneau cover
Tinted rear & back windows
Front chrome bumper
Single chrome ball mounted trailer hitch
6 spoke brushed aluminum rims
Partial logo on the front passenger side of the vehicle that appears to be covered
"We believe someone will recognize this suspect or the crest and slogan on his hoodie." Says Corporal Mike Kalanj of the Burnaby RCMP, This was not a quick reaction, the suspect had plenty of time to think about his actions and he chose to respond in this violent manner.

Burnaby RCMP is asking anyone who may be able to identify the suspect in the photos or may have information about this incident to contact the Burnaby RCMP at 604-646-9999. If you wish to make an anonymous report please contact Crime Stoppers at 1-800-222-TIPS or www.solvecrime.ca.

Released by

Cpl. Michael Kalanj

Media Relations Officer
Burnaby RCMP
burnaby.rcmp-grc.gc.ca (English only)
6355 Deer Lake Avenue, Burnaby, BC, V5G 2J2
Office: 604-646-9566
Fax: 604-646-9704


Email: burnaby_rcmp_media@rcmp-grc.gc.ca

Follow Us: