Do you recognize either of these mail theft suspects?
Burnaby
2021-01-05 13:49 PST
File # 2020-39752
The Burnaby RCMP is looking to identify two suspects in a break and enter and mail theft that occurred in October.
Do you recognize either man in the below video?
On October 1, 2020, at approximately 5:30 a.m., the two suspects broke into an apartment building in the 6500-block of Bonsor Avenue. While in the mail room, the suspects broke into multiple sets of mail boxes, taking all the mail they could carry.
Suspect 1 is described as:
Asian
Medium build
Short dark hair
Wearing:
Black jacket
White shirt
Blue Jeans
Black shoes
Black & white mask
Black glove on his left hand
Suspect 2 is described as:
Wearing:
Black baseball cap
Black mask with white writing
Black jacket
Black pants
Black shoes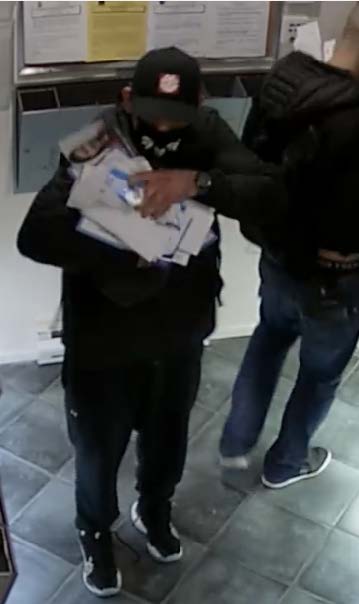 Check and empty your mailbox daily, says Corporal Mike Kalanj of the Burnaby RCMP. Ensure mailbox security is a priority, because it doesn't take long to become a victim of mail theft.

Burnaby RCMP is asking anyone who may be able to identify either suspect or may have information about this incident to contact the Burnaby RCMP at 604-646-9999. If you wish to make an anonymous report please contact Crime Stoppers at 1-800-222-TIPS or www.solvecrime.ca.

Released by

Cpl. Michael Kalanj

Media Relations Officer
Burnaby RCMP
burnaby.rcmp-grc.gc.ca (English only)
6355 Deer Lake Avenue, Burnaby, BC, V5G 2J2
Office: 604-646-9566
Fax: 604-646-9704


Email: burnaby_rcmp_media@rcmp-grc.gc.ca

Follow Us: