Can you help identify suspects in a hate crime and assault investigation?
Burnaby
2020-09-29 10:07 PDT
File # 2020-38955
Police are asking for the public's help in identifying three suspects in relation to a disturbing incident which occurred in the Metrotown area on Saturday.
On Saturday, September 26, at 4:15 p.m., police responded to a report that a man had allegedly been racially abused and had coffee thrown on him near the Metrotown Skytrain Station in Burnaby.
The victim alleges that the suspect dressed in yellow in the image below, along with two other people began shouting remarks such as Go back to your country, at him. The suspect dressed in yellow then approached the victim and poured coffee over his head.
The suspect is described as a Caucasian man in his 40's, wearing a yellow hoody, beige pants and black hat.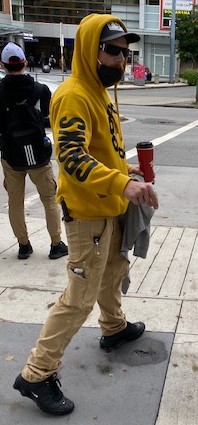 The two other suspects being sought in this investigation are described as;
• Woman in her 30's with a blonde ponytail, wearing a black hoody and grey sweatpants
• Man wearing a black vest, black pants, black shoes and a black hat worn backwards
Discrimination in any form has no place in our wonderfully diverse City, says Corporal Mike Kalanj with Burnaby RCMP. While we are thankful that the victim was not physically injured, we are mindful of the long lasting effects that incidents like this one can have on those being targeted so it is hugely important that we identify these suspects quickly.

If you have any information that would assist police in identifying these suspects then please contact Burnaby RCMP at 604-646-9999 or if you wish to stay anonymous contact Crime Stoppers at 1-800-222-TIPS or go to www.solvecrime.ca.

Released by

Cpl. Michael Kalanj

Media Relations Officer
Burnaby RCMP
burnaby.rcmp-grc.gc.ca (English only)
6355 Deer Lake Avenue, Burnaby, BC, V5G 2J2
Office: 604-646-9566
Fax: 604-646-9704


Email: burnaby_rcmp_media@rcmp-grc.gc.ca

Follow Us: