Valentine's Day Drug Bust
Burnaby
2020-02-20 09:45 PST
File # 2020-6872
Not everyone had a happy Valentine's day as Burnaby RCMP's Drug section arrested two people on alleged drug offences.

Just after 9:30 p.m., on February 14, 2020, Burnaby RCMP's Drug section were conducting proactive enforcement when they observed a vehicle they believed was involved in drug trafficking.

As a result of this investigation, two women were arrested, a vehicle was impounded and numerous drugs and cash were located in several hidden compartments in objects located inside the vehicle. Included in the seizure were fentanyl, cocaine, methamphetamine, counterfeit pills of unknown substances and approximately $1500 in cash.

In addition to the seizure above, both suspects will now have to do without a water bottle, lint roller and hairbrush where many of the drugs were located.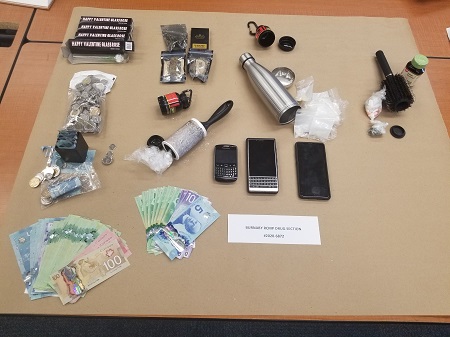 Burnaby RCMP will be forwarding charges for Possession for the purpose of trafficking in relation to this investigation.

Our investigators used their wealth of experience and local knowledge to successfully locate the suspects and several hidden compartments. says Corporal Mike Kalanj. This is another example of top quality police work taking harmful drugs off the streets of Burnaby.


Released by

Cpl. Michael Kalanj

Media Relations Officer
Burnaby RCMP
burnaby.rcmp-grc.gc.ca (English only)
6355 Deer Lake Avenue, Burnaby, BC, V5G 2J2
Office: 604-646-9566
Fax: 604-646-9704


Email: burnaby_rcmp_media@rcmp-grc.gc.ca

Follow Us: