Drugs, cash and weapons seized during proactive patrols
Burnaby
2019-11-07 16:20 PST
File # 2019-47024
Burnaby RCMP's Community Response Team used their knowledge of the City and instinct to arrest a man suspected of drug dealing in the City.

On Monday October 28, 2019, at 1:50 p.m., Burnaby RCMP CRT officers were in the area of Beresford Street and Cassie Avenue in Burnaby. Officers observed a man exiting a vehicle that pulled up near the Metrotown Skytrain Station. The vehicle was then driven up Beresford Street and a man who was observed earlier by police acting suspiciously entered the vehicle. CRT officers believed the vehicle was being used for drug dealing and initiated a traffic stop.

After stopping the vehicle and speaking with the driver, police noticed drugs in plain sight in the vehicle. The driver stated that he had picked up the other man to go use the drugs together. The driver was immediately arrested for possession under the Controlled Drugs and Licensing Act.

A search of the driver and vehicle resulted in further evidence pointing to this being a street level drug trafficking operation. CRT officers seized $3,000 in cash, weighing scales, zip lock baggies, several cell phones, a large knife and identification and bank cards that are suspected to have been stolen.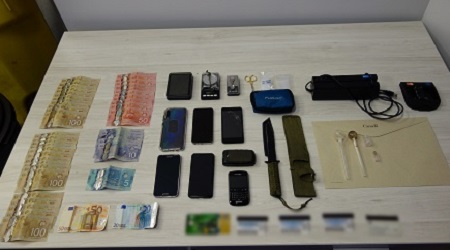 Our Community Response Team officers are constantly conducting proactive patrols to stop this kind of drug activity in our City, says Inspector Kathy Hartwig with Burnaby RCMP. In this instance, our officers used their knowledge and experience of investigating drug dealers to ensure that this trafficking operation was disrupted.

The driver of the vehicle, a 35-year-old Langley man is facing potential charges of possession for the purpose of trafficking and identity theft. The vehicle passenger will not be facing any charges.

Released by:
Burnaby RCMP Media Relations
604 646 9900
Follow Us: